Red Meat Abattoir Association 
---
Press Release: FMD Molemole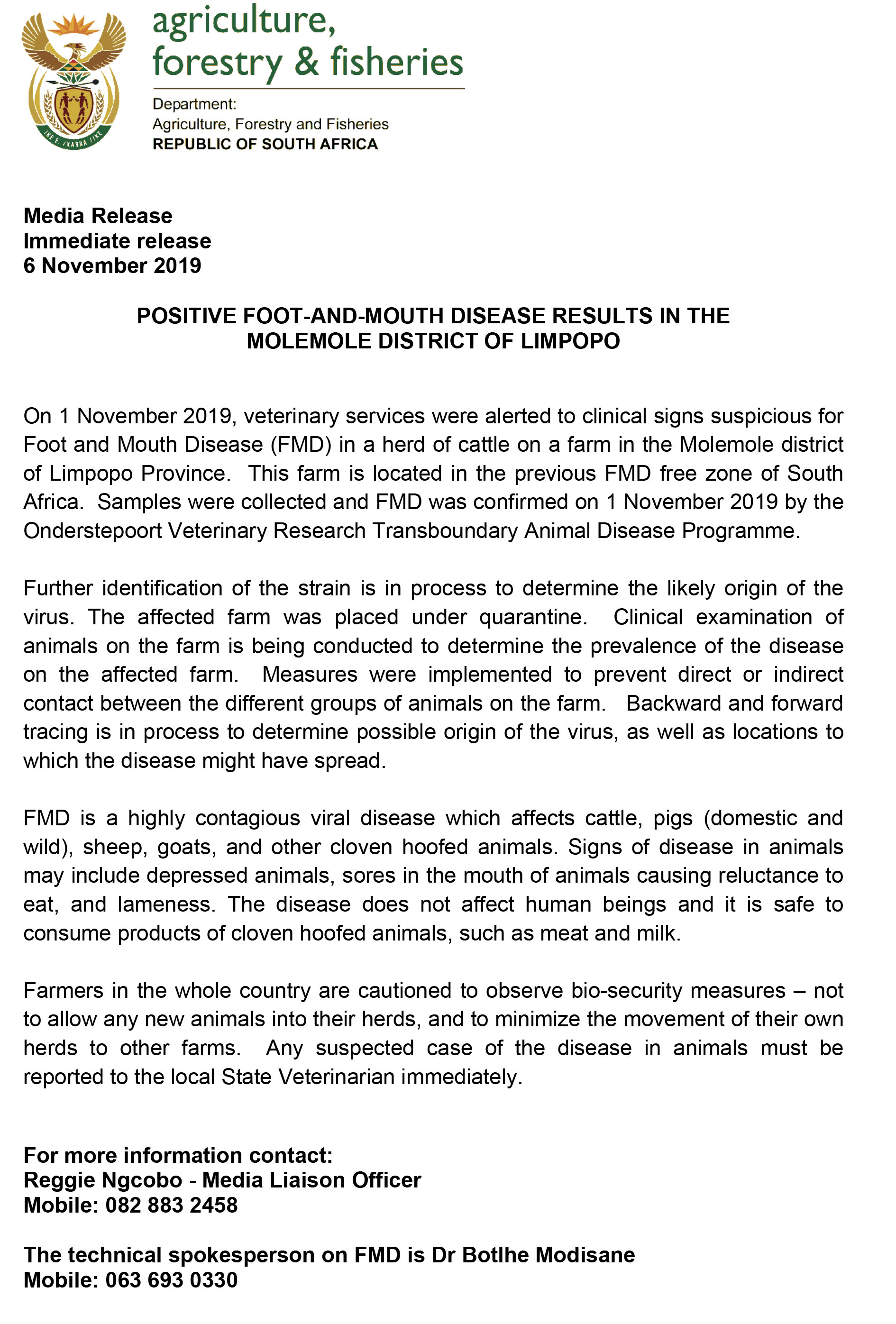 ---
RMAA Workshop – 2019/11/11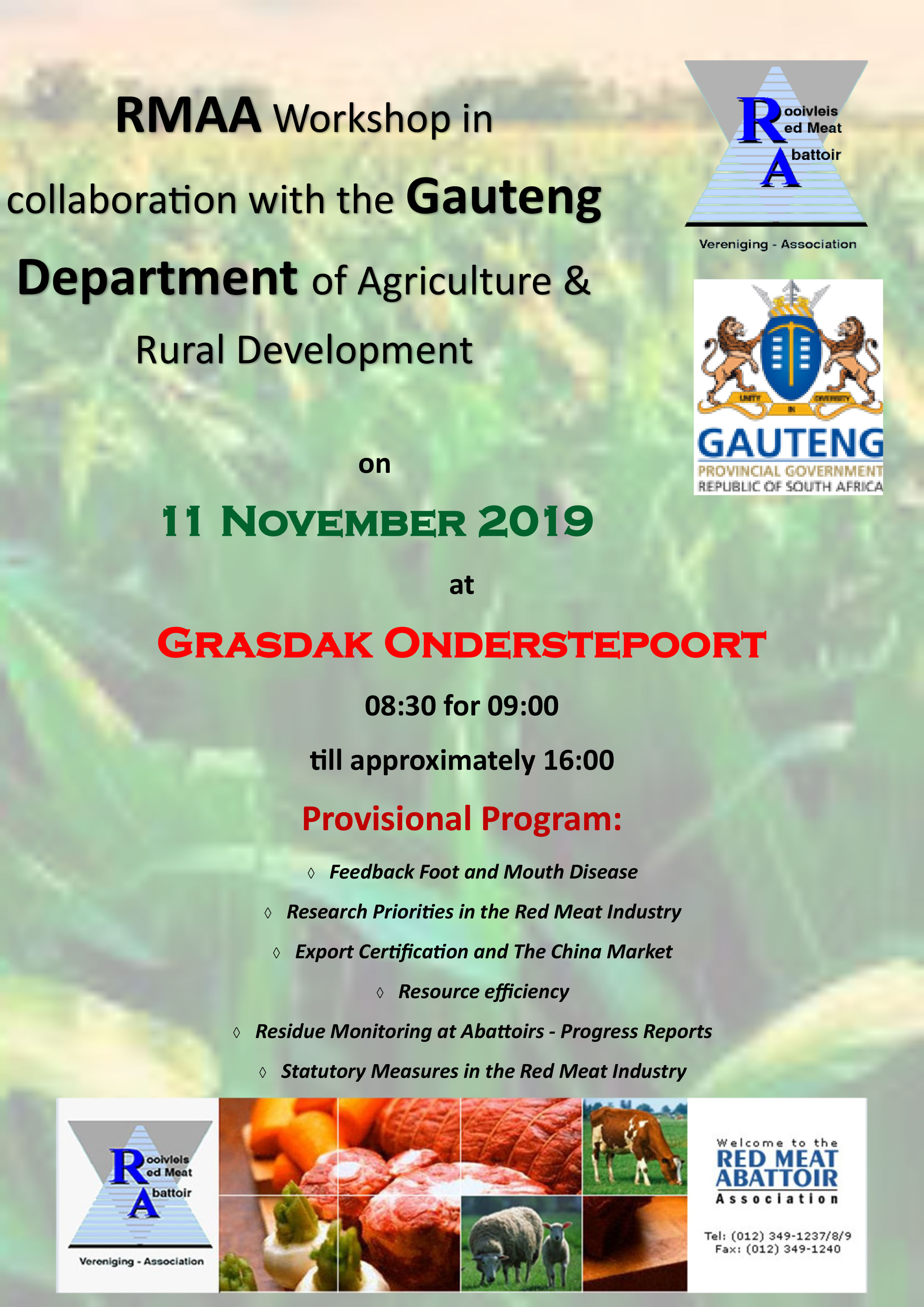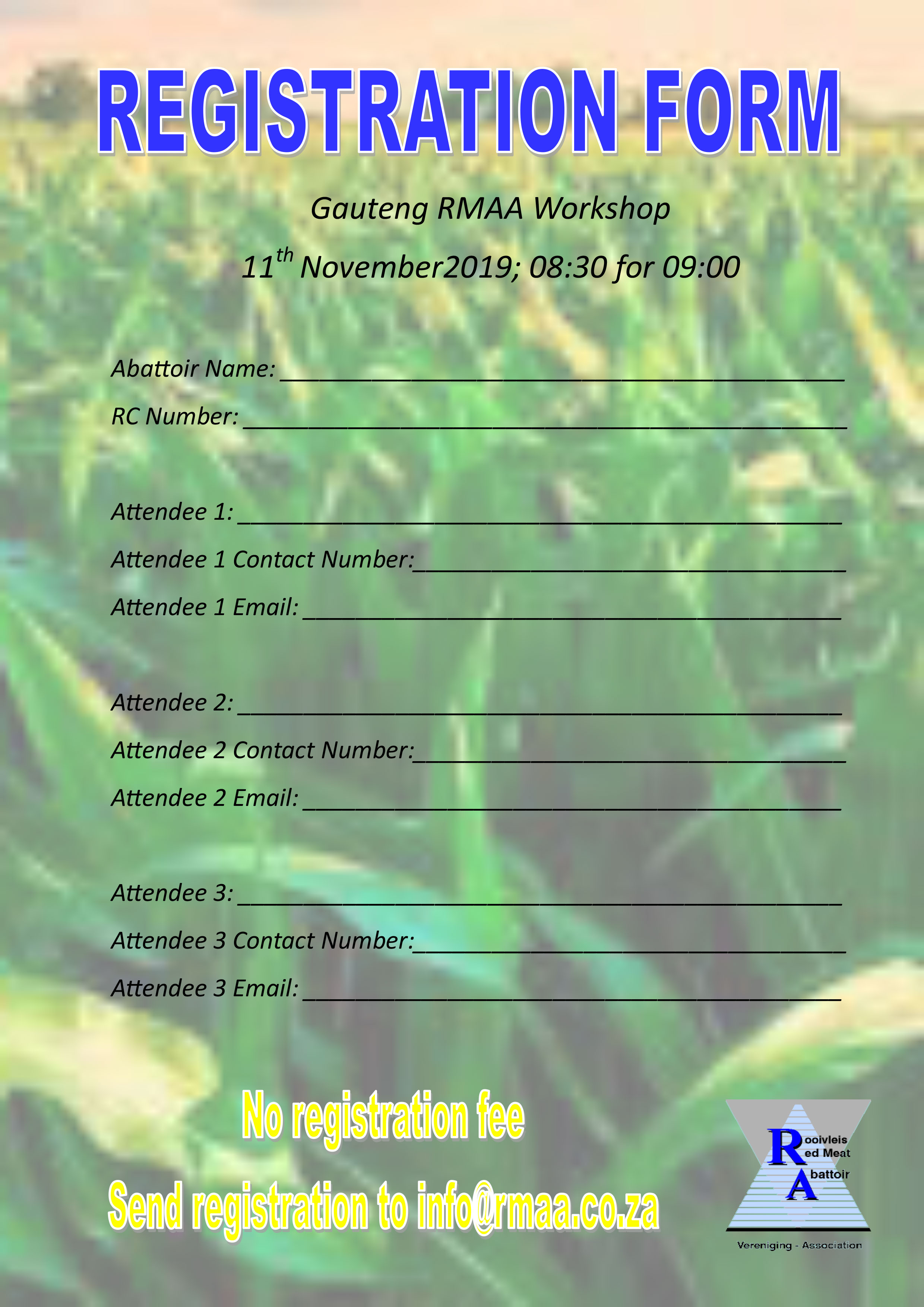 ---
RMAA Newsflash – Export to China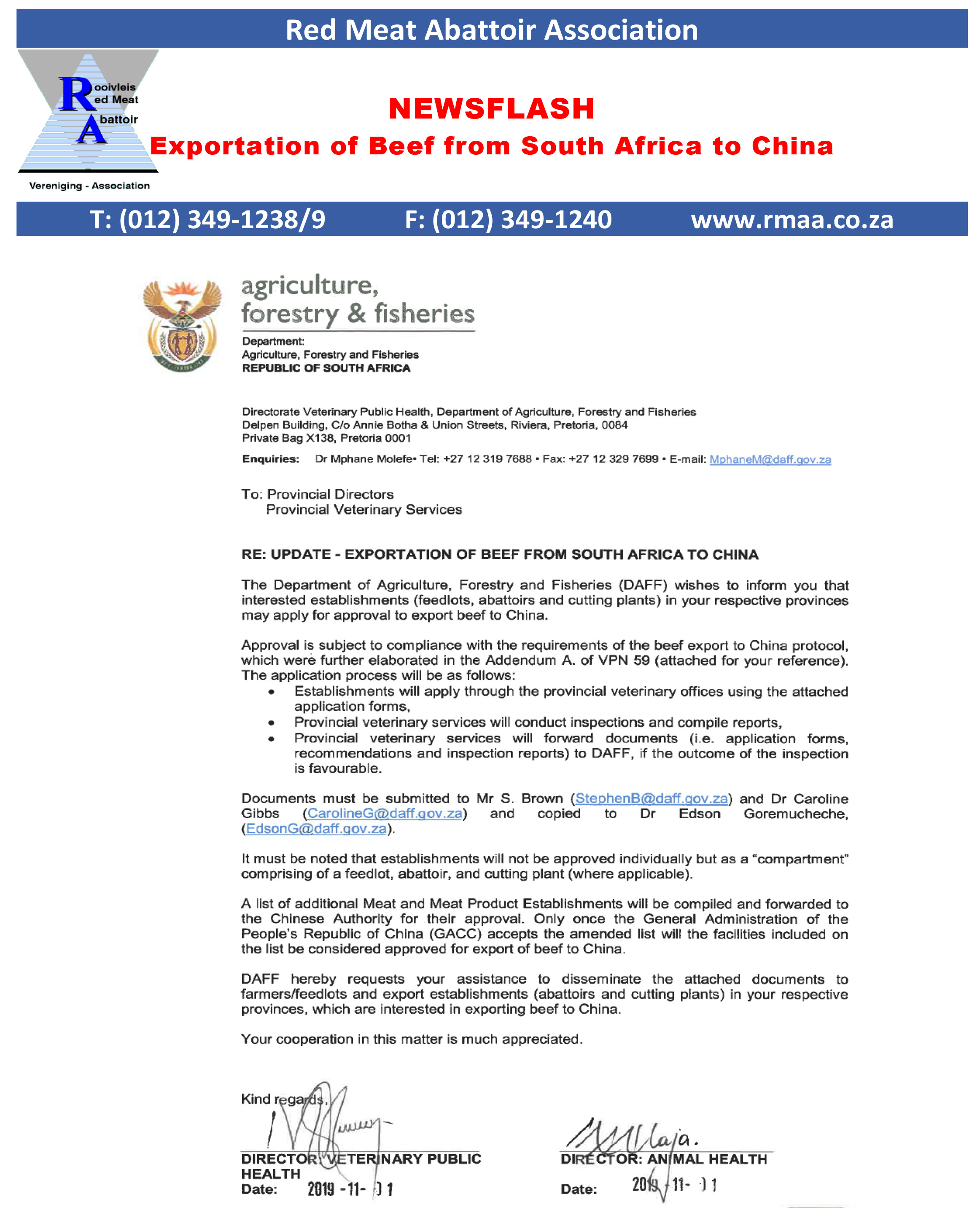 ---
2020 – 2021 Discretionary Grant (LS, AET, SP, COM, MEN)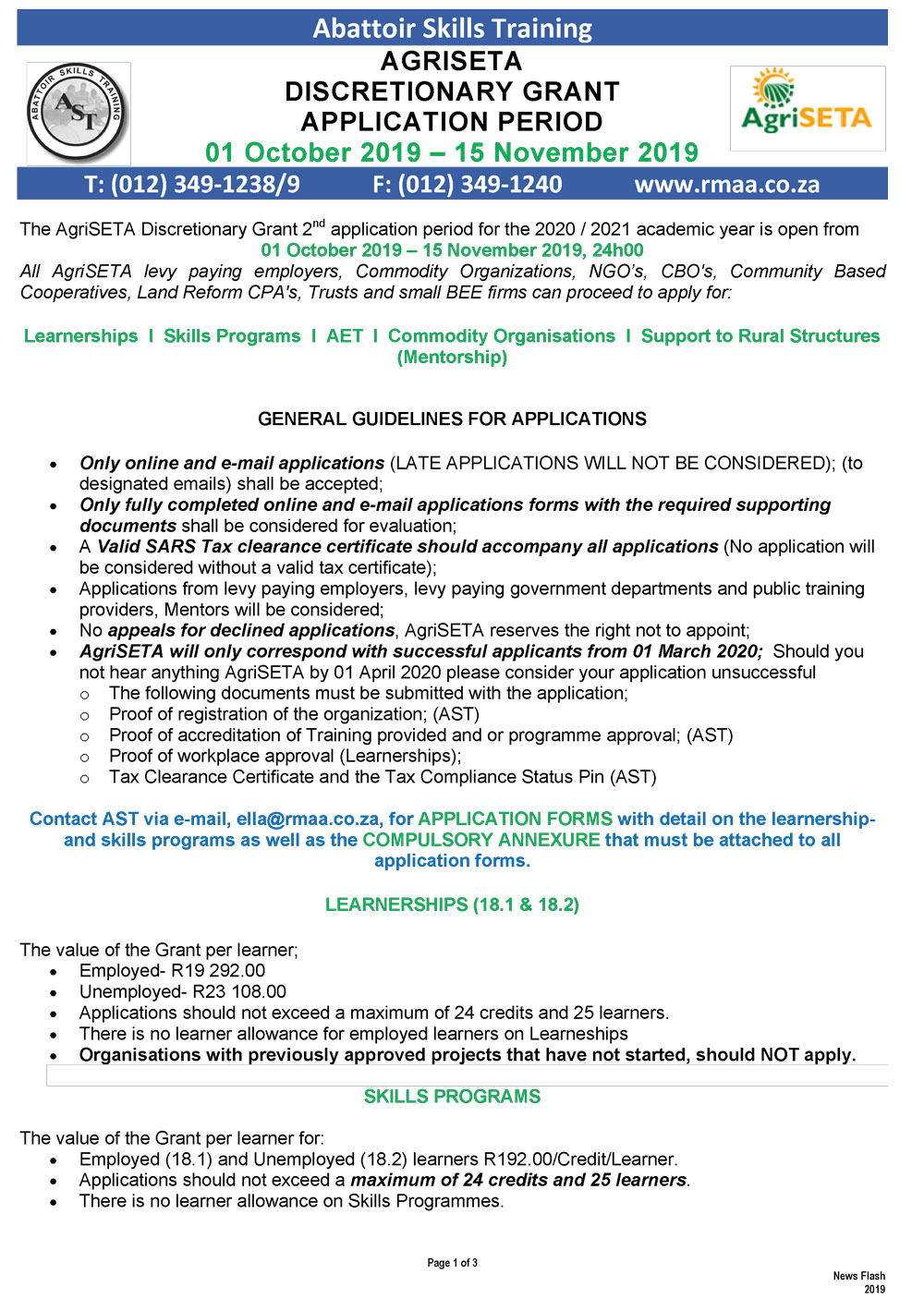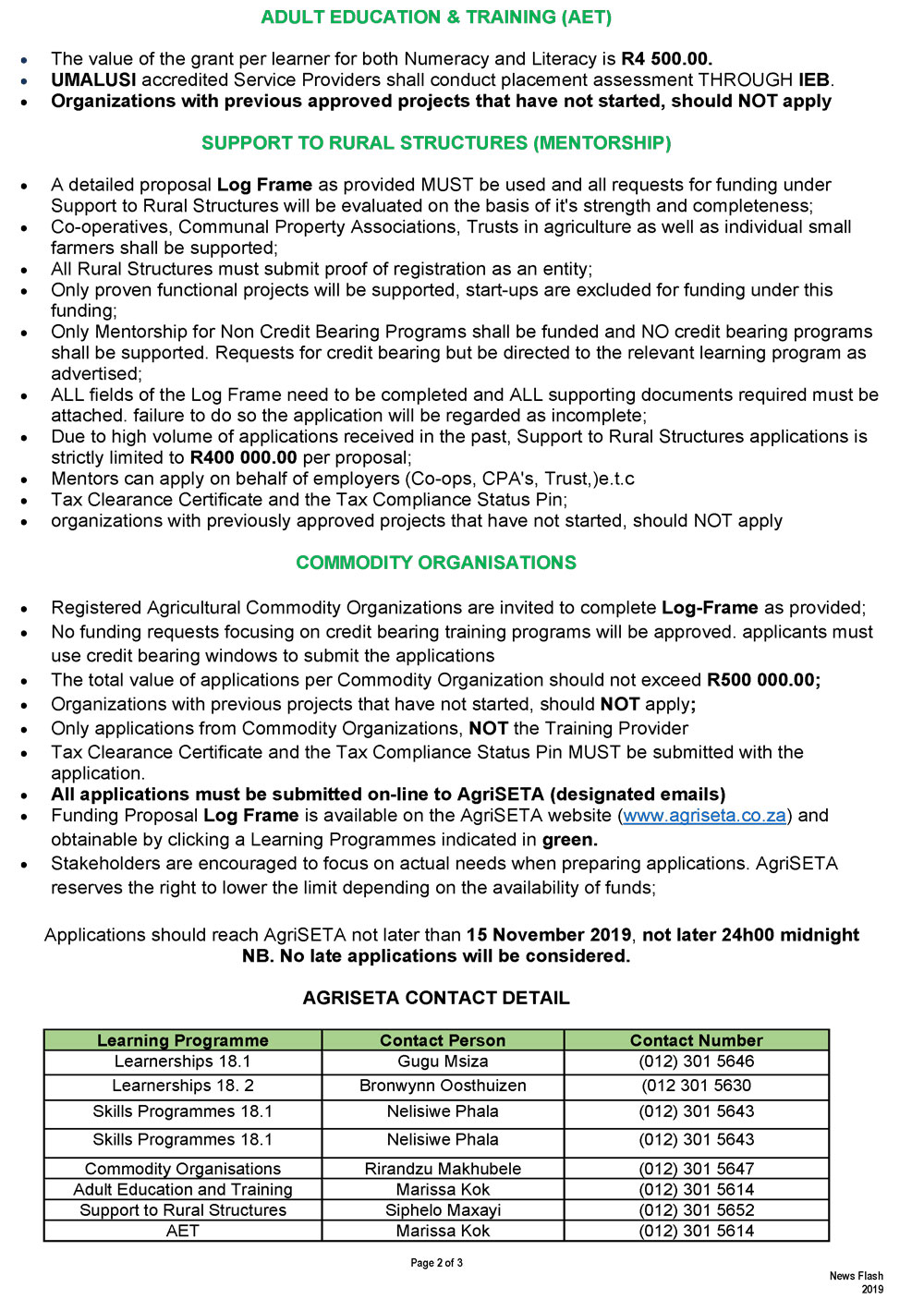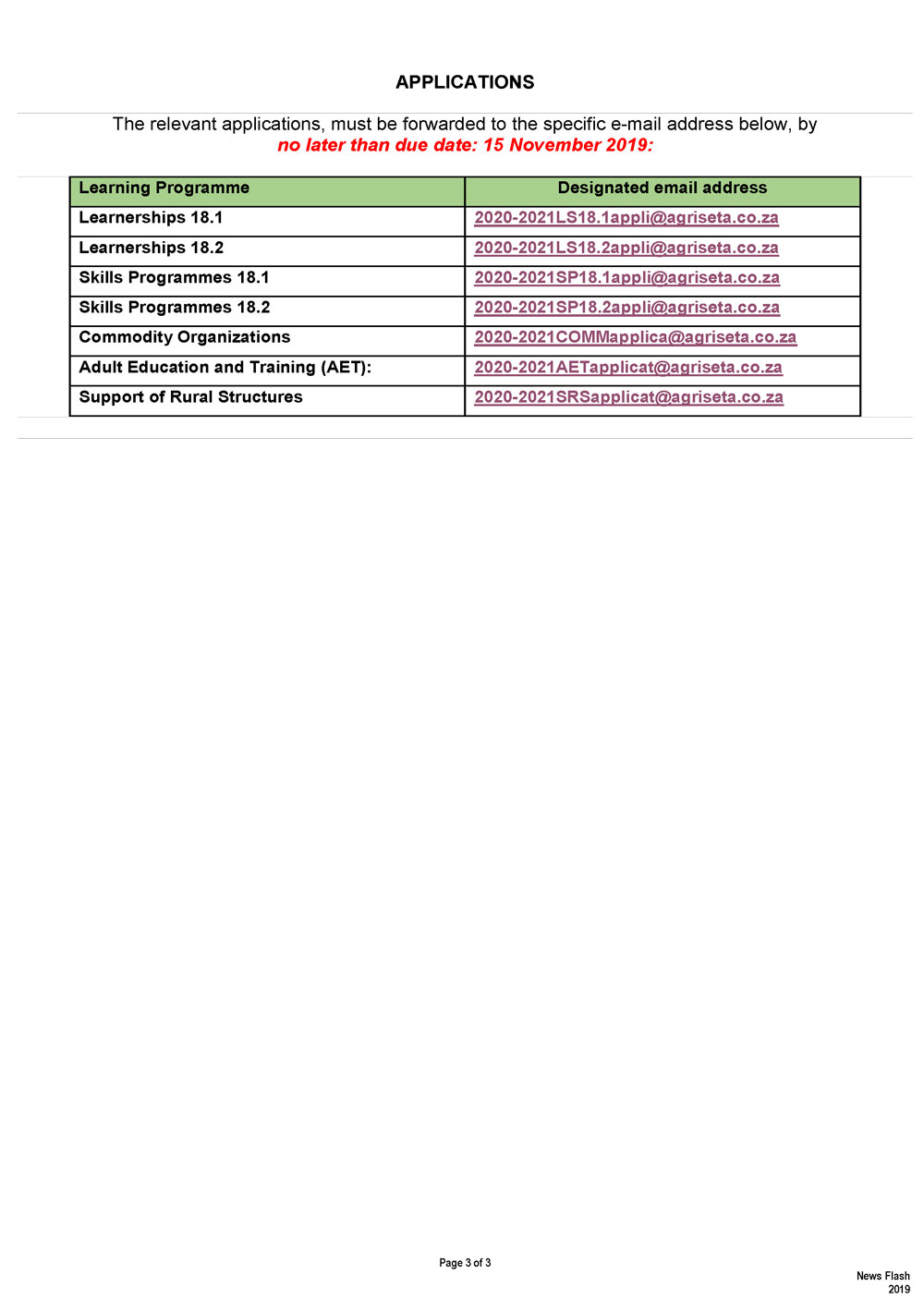 ---
Animal Welfare at the Abattoir 25-27 November 2019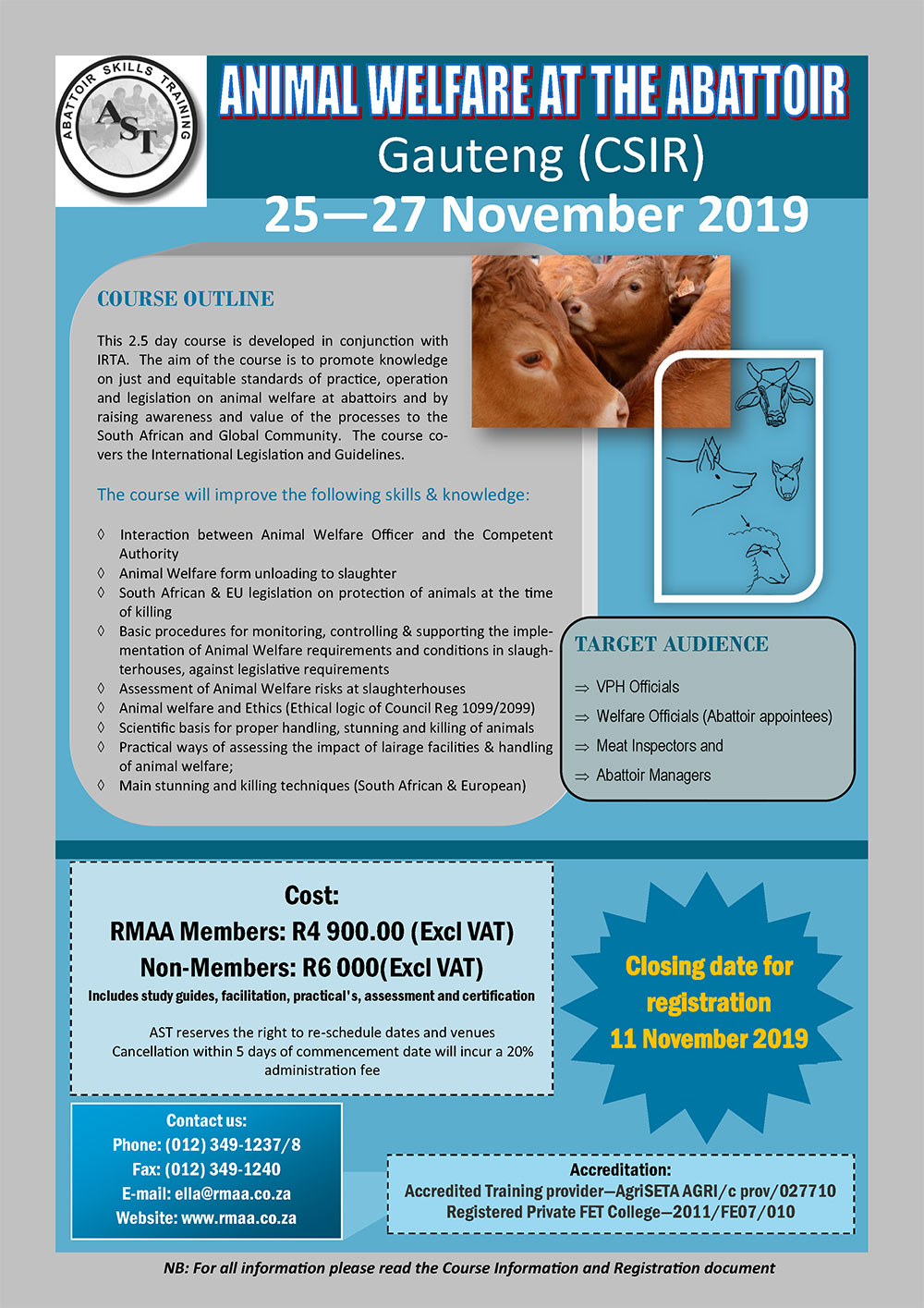 ---
Noord-Kaap RVAV Werkswinkel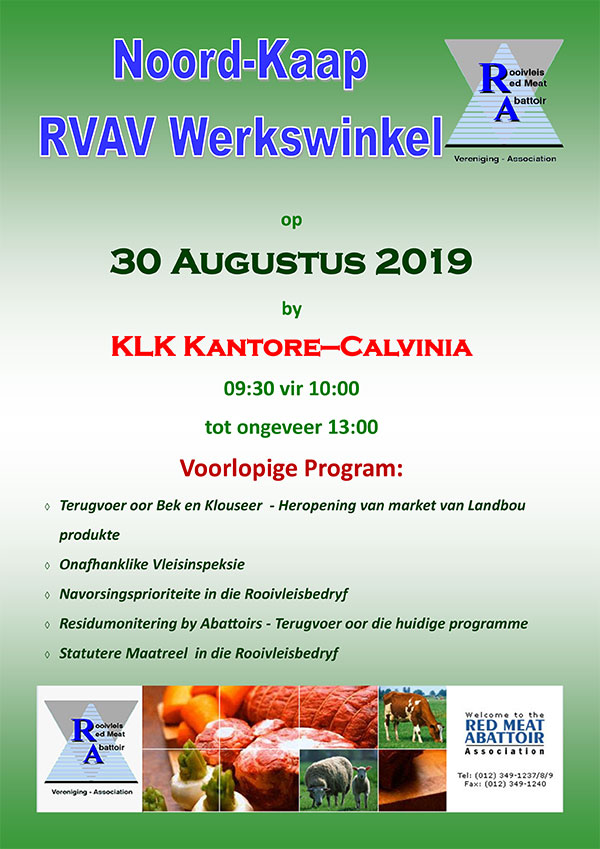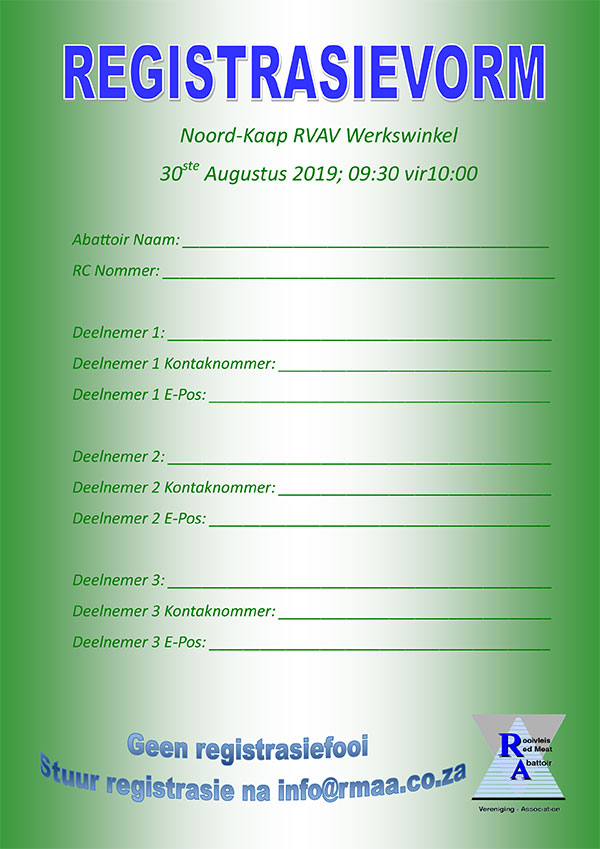 2019-08-01 – Noord-Kaap RVAV Werkswinkel
---
RMAA June Newsletter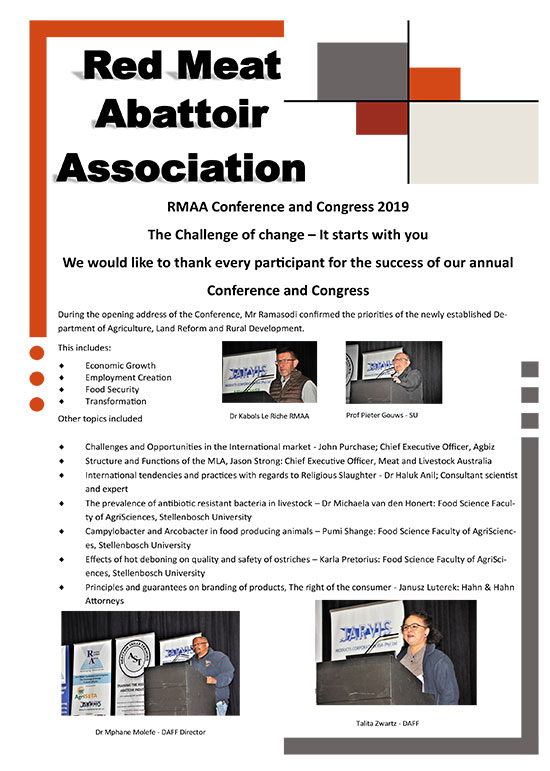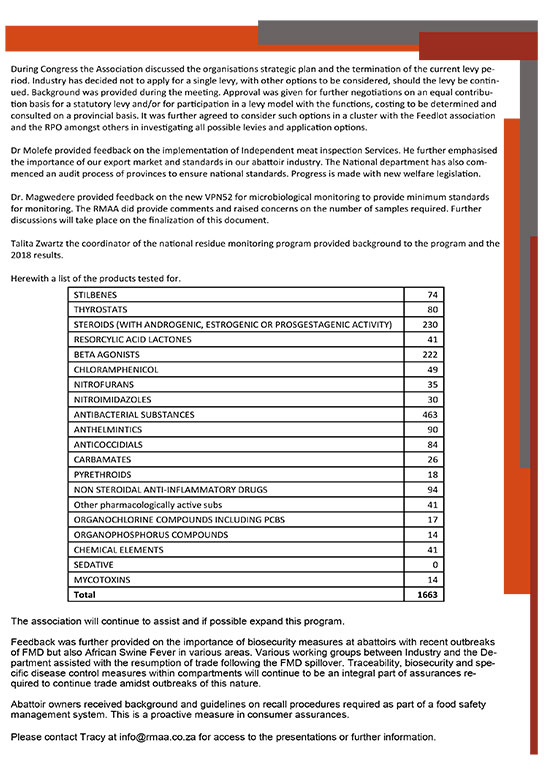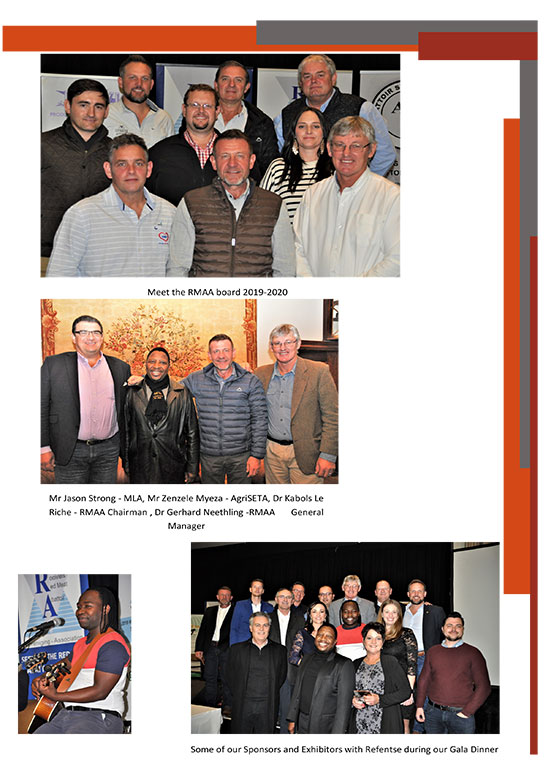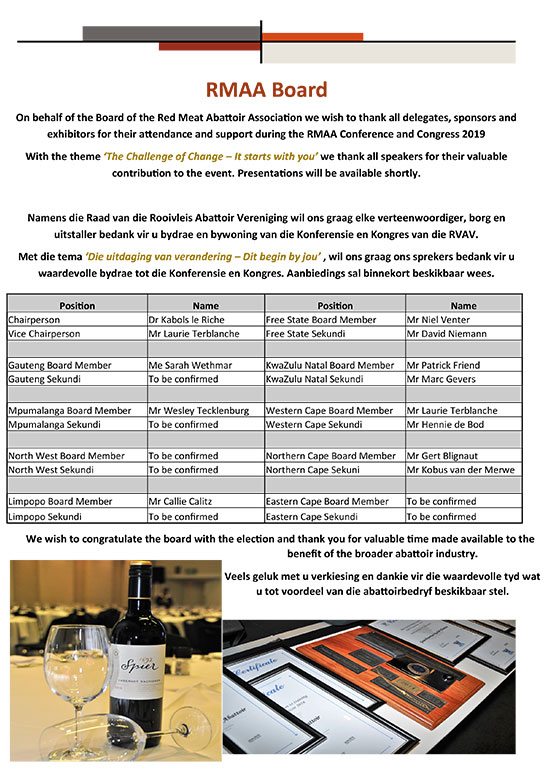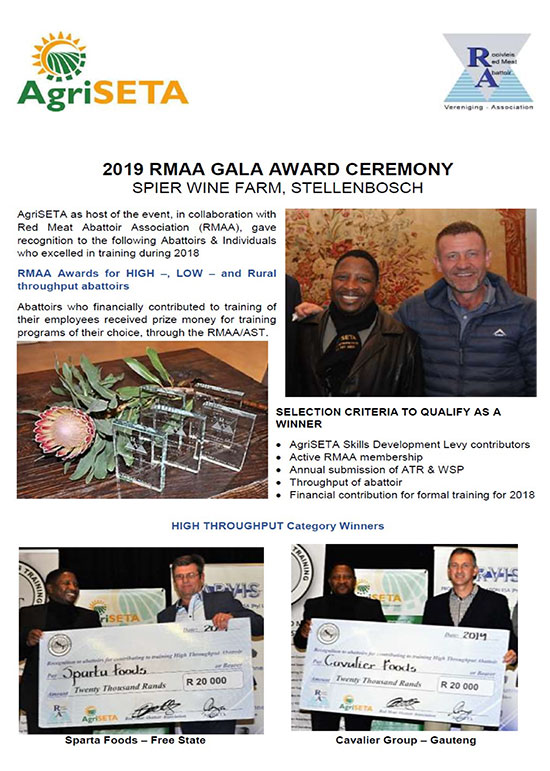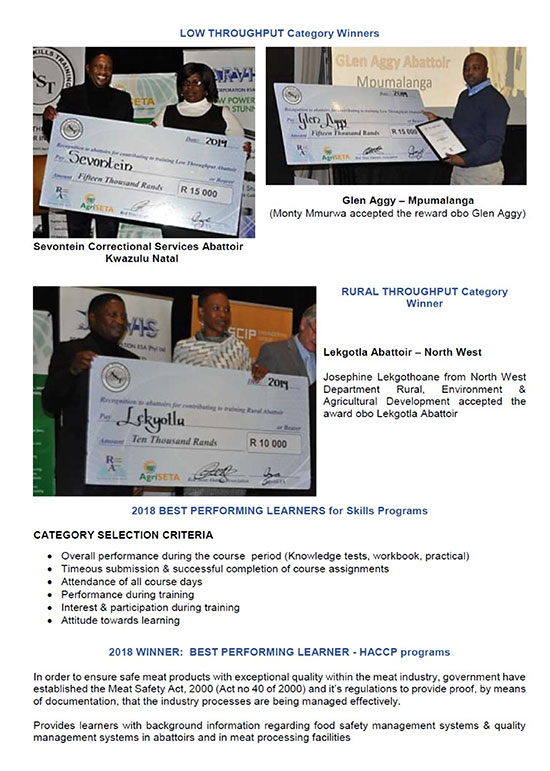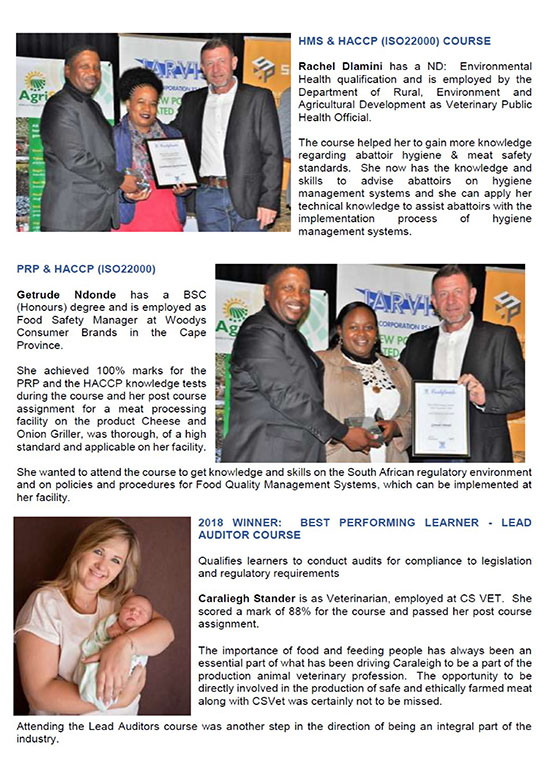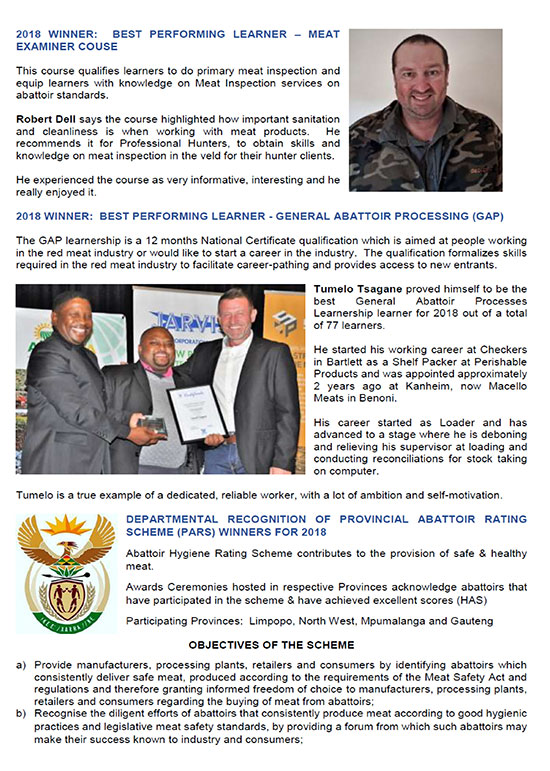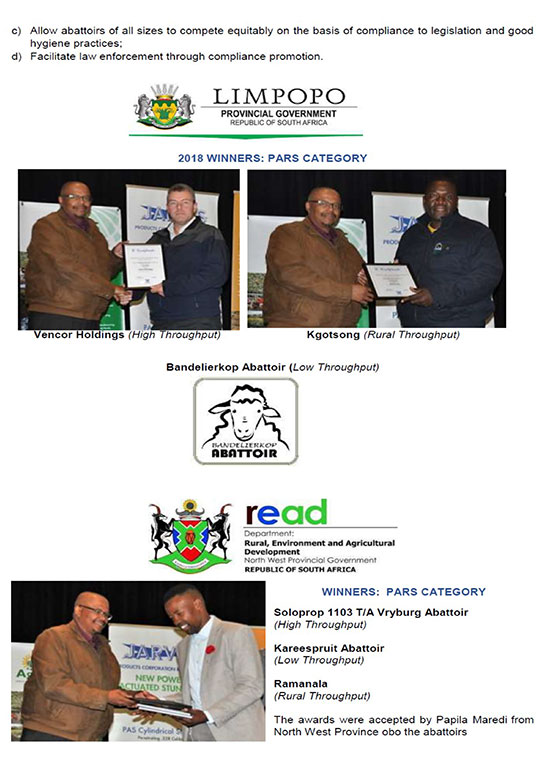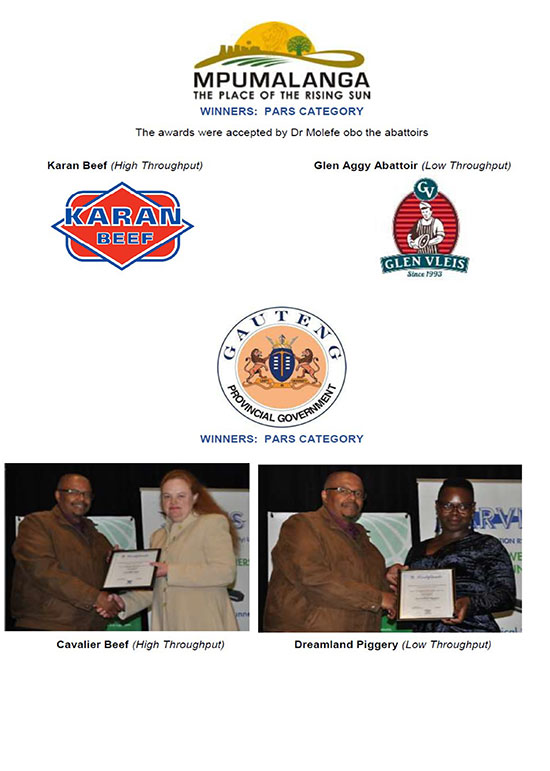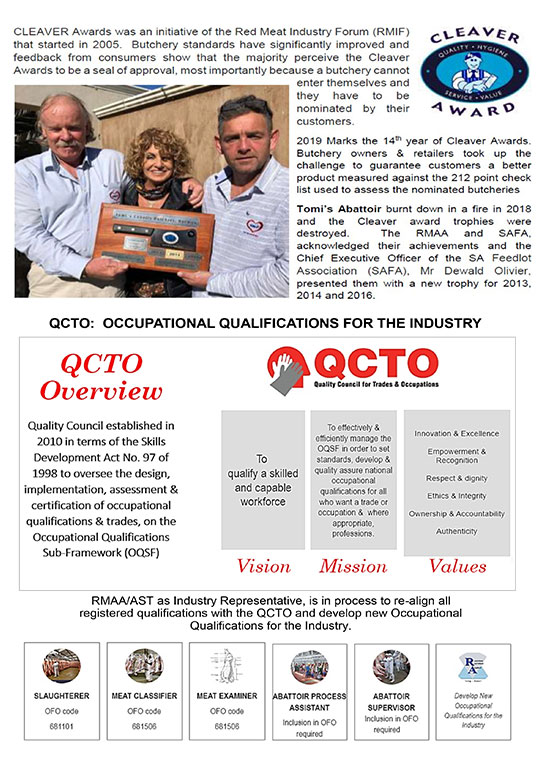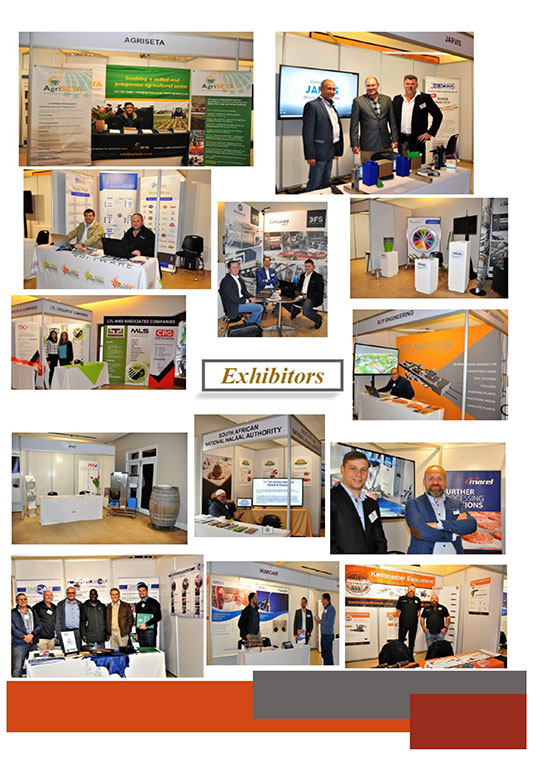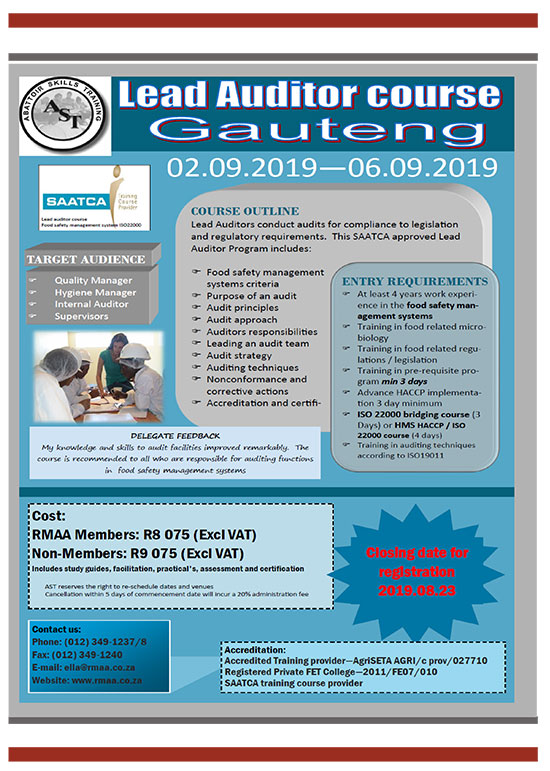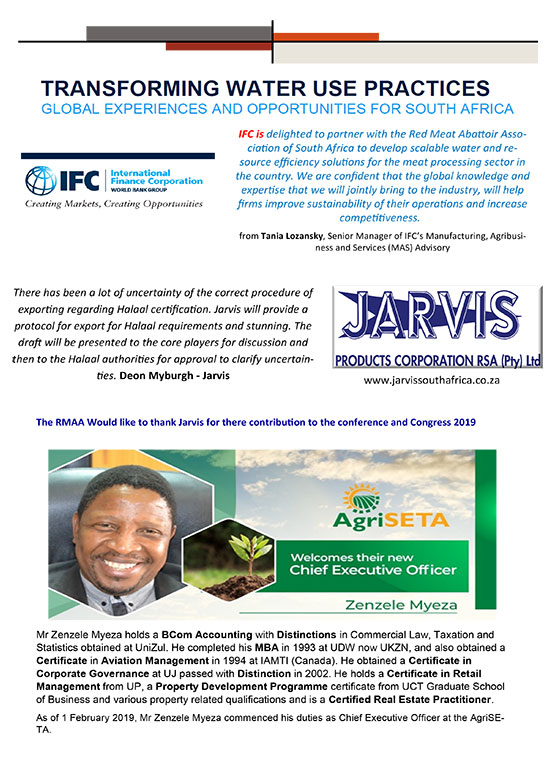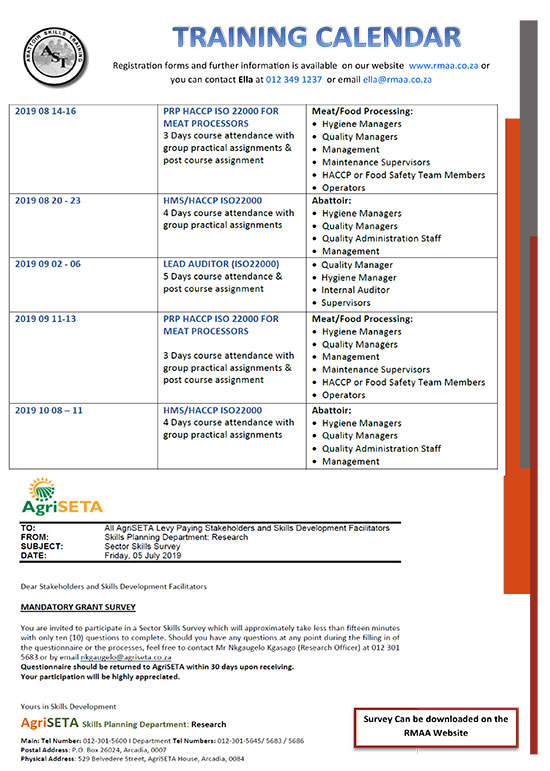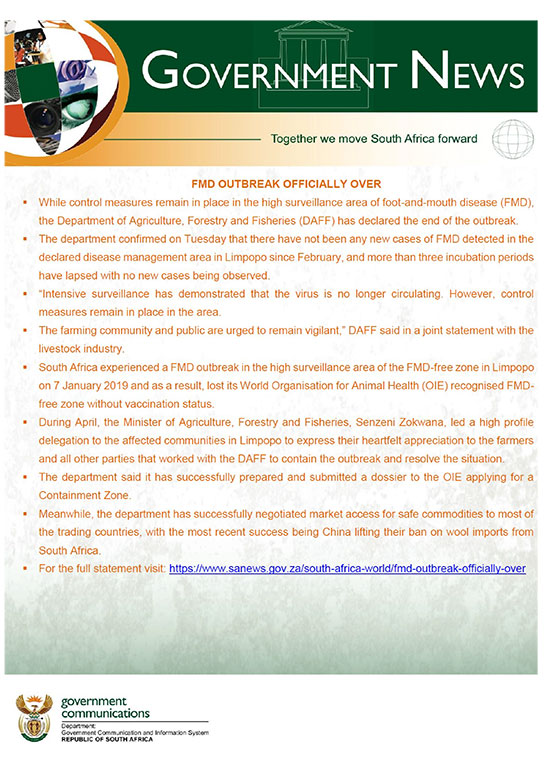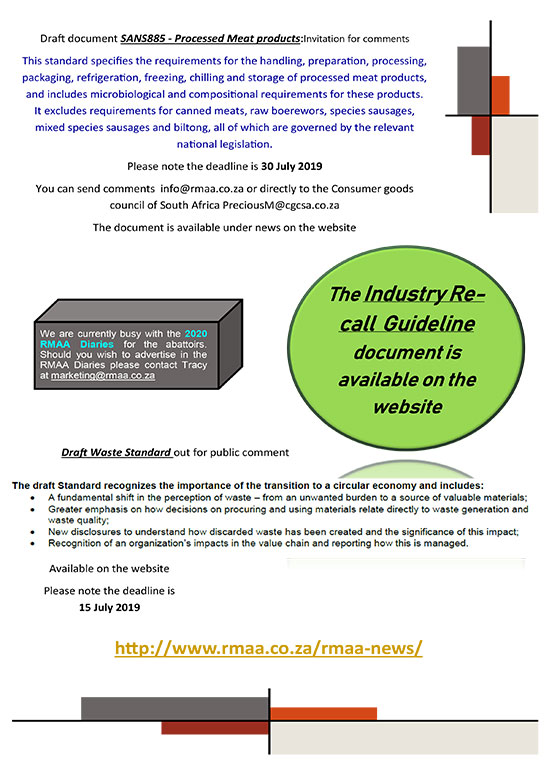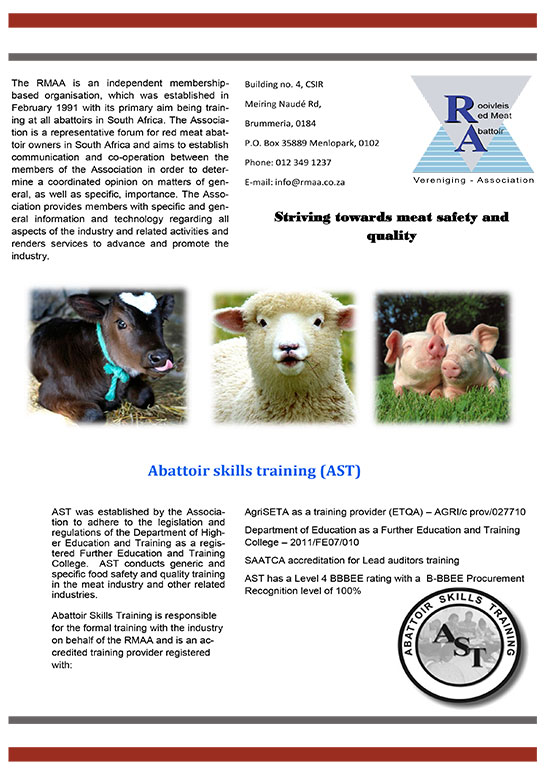 ---
2019 RMAA Gala Award Ceremony

---
RMAA Board & Thank You

---
RMAA Newsflash – RMRDSA Questionnaire

The RMRDSA has intention is to develop a new programme for RMRD SA Planning Committee (R&D) Cattle and Small Stock that will have a balance between research, development and technology transfer.
The following programmes were identified
 

Current programmes         

1
Sustainable natural resource utilization

Sustainable natural resource management
Veld monitoring and management
Ecosystem sustainability (decision support systems
Environmental protection
Restoring the value of grasslands/rangelands
Livestock genetic resources

2
Improvement of livestock and forage production (to increase productivity, food security and efficiency of resource use)

Breeding and genetics (including genomics)
Reproduction efficiency
Animal growth and feed requirements
Nutrient intake and utilization
A systems approach to livestock production
Herd management

3
Anticipation & mitigation of agricultural risks to create a resilient red meat sector

Predation management
Livestock theft prevention

Climate-smart livestock production (adaptation and mitigation for sustainable livestock production
Baseline information – carbon and water footprint
Effect of climate Change

4
Animal health and welfare

Animal welfare
Animal/ Pathogen I Environment Interactions (Climate Change)
Diagnostics
Disease control strategies

5
Animal products

Product safety, zoonosis and nutritional value
Red meat products and by-products
Antimicrobial resistance

6
Market development of the red meat sector

Market development and trade, including export
Consumerism and customer behaviour
You receive this questionnaire in order to identify the research priorities pertaining to Animal Products (Program 5)
Please feel free to provide or forward this questionnaire to any other interested party in the red meat industry or research environment
The deadline is 21 June 2019
Please contact us should you require any further information
Gerhard Neethling
RMAA General Manager
You are invited to participate in a research survey.
The Red Meat Research and Development South Africa (RMRD SA) is conducting research regarding solutions, processes and technologies that will enhance the production and processing of animal products.
Please note that this survey takes 10 minutes to complete. By completing this survey, you are agreeing to participate in the research. Your participation will be appreciated.
To participate in English, please click on the following link: https://www.surveymonkey.com/r/EnglishRMRD
---
U is genooi om deel te neem aan 'n navorsingsopname.
Die Rooivleisnavorsing en -ontwikkeling Suid-Afrika (RMRD SA) doen navorsing oor oplossings, prosesse en tegnologieë wat die produksie en verwerking van diereprodukte sal verbeter.
Let asseblief daarop dat hierdie opname 10 minute neem om te voltooi. Deur hierdie opname te voltooi stem u in om betrokke te wees by die navorsing. U deelname sal waardeer word.
Om deel te neem in Afrikaans, klik asseblief op die volgende skakel: https://www.surveymonkey.com/r/AfrikaansRMRD
---
RMAA Conference & Congress 2019

---