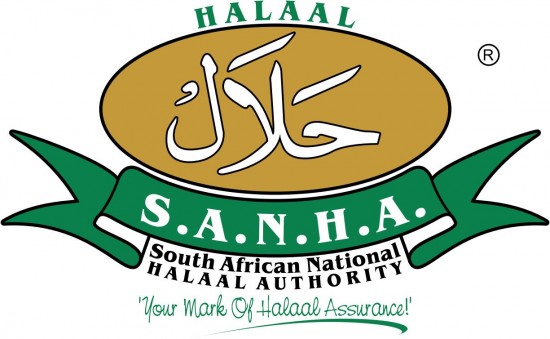 The South African National Halaal Authority (SANHA) is an internationally respected certifying authority. Promoting professionalism and excellence in the certification of Halaal, it certifies and approves establishments ranging from abattoirs, food and beverage products, bakery and dairy, food ingredient and flavor manufacturers, meat processors, restaurant and hospitality industry, multi-national corporations and cottage industries and scores of others in South Africa, Pakistan, Oman, Ghana, UAE, Europe and India.
Its membership comprises of Theological and Professional Organisations of global repute and is a founder member of the World Halaal Council. It assists with training and standardization of the Halaal Certification Programme and provides consultancy support to many certifiers worldwide.
The SANHA certificate/license is an authoritative, reliable and independent testimony of assurance of products and/or services meeting stringent Halaal requirements.
SANHA has extensive experience in the certification of meat products including the facilitating of exports. It arranges and participates in trade shows and exhibitions locally and globally.
SANHA has been established as a representative authority, which promotes professionalism and excellence in the certification of Halaal food and other related products. SANHA is committed to standardizing Halaal procedures both nationally and internationally, thereby rendering a tangible and credible service to both the consumer and the industry. Indeed, this strategy does not only prove beneficial for the Muslim consumer but is also a means of promoting trade.
Our services include:
Halaal certification and monitoring;
Expert advice on establishing Halaal program;
Review of your existing Halaal program;
Halaal product enquiry CALL CENTRE – 0861 786 111;
Specialised supervision of specific functioning catering;
Educational programs for schools;
Conducting briefings and workshops on Halaal certification procedures;
Dissemination of information to consumers via newsletters, leaflet, electronic mail, trade fairs, exhibitions, radio, print and electronic media;
Educating the public on Islamic dietary laws and practices;
Monitoring and acting on abuse of Halaal marks;
Investigating Halaal complaints from both the consumer and industry;
Keeping the consumer and industry fully informed at the national level with respect to fraudulent or deceptive practices;
SANHA has offices in major cities of South Africa and in Pakistan.
SANHA accreditation with GAC and Registration with ESMA  have been finalized
AC_10_4_1_Schedule_of_Accreditation-_CONFIRMED
SANHA Head Office
 P O Box 2092                      4
th
Floor, Gem Towers, Durban                                  98 Overport Drive 4000                                      Durban                                                 4067
Tel                    031 207 5768
Fax                   031 207 5793
E-mail             sanha-kzn@sanha.org.za
Website          www.sanha.org.za
Helpline          0861 786 111
Facebook       www.facebook.com/SouthAfricanNationalHalaalAuthority
Twitter            http://www.twitter.com/SANHA_Halaal
South African National Halaal Authority Profile