Slaughter Technique Training & Assistance
Slaughter technique training provided to member abattoirs according to a monthly programme. Slaughter training is also provided to abattoirs based on requests from provincial veterinary officers, even if the abattoir is not a member.
In order for routine slaughter training to take place, the abattoir's slaughter practices are evaluated and compared with the standard best practice slaughter procedures as regularly updated by the association. Deviations are recorded and corrective training is provided by experienced training teams. A report is generated and a copy is provided to the abattoir which must be kept as part of the training records as pre-scribed in terms of regulation 55(b)(3) under the Meat Safety Act, 2000 (Act no. 40 of 2000) as part of the Hygiene Management System.
Evaluation includes:
Correct slaughter techniques
Personal hygiene practices
Equipment used
Slaughter floor layout and operation
Slaughter team layout
Bleeding times
After evaluation the findings are discussed with management. Corrections are lastly done according to the layout of the slaughter floor, available personnel and any other factors present.
The main aims are to: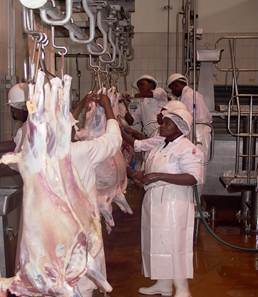 Increase hygienic practices
Reduce contamination
Reduce damage to the carcass, skin and organs
Enhance ergonomics and speed
Increase slaughter out percentage
Better use of available personnel
Corrective actions may include:
Change layout of slaughter stations
Train personnel at specific stations
Recommend equipment changes
Recommend line layout changes
Training is always conducted by first demonstrating the correct and/or best procedure, then evaluating the operator conducting the procedure and conducting a re-demonstration if necessary. Finally competency is recorded for each worker at their respective work stations indicating competency acquired in the new/ adapted technique.
A routine slaughter training report is forwarded to the management after completion of the training.
Beef, Sheep and Pigs slaughter training are based on findings after evaluation of the following elements at the various slaughter stations:
Availability and condition of structures and equipment
Availability of operators
Procedures used at various stations by each operator
Hygiene practices
The areas (slaughter stations) include:
Stunning
Shackling and hoisting
Throat cut (beef and sheep)
Sticking (pigs)
Bleeding
Electrical stimulation (where applicable)
Weasand rodding (where applicable)
Removal of front feet, removal and dressing of the head, flaying (first hind leg, second hind leg, flanks, lumbar region and back, neck, shoulders and forelegs, final hide removal)
Scalding (pigs)
Dehairing (pigs)
Flaming (pigs)
Splitting of the breastbone
Evisceration
Removal of the pluck
Splitting the carcass (where applicable)
Final finishing
Final wash
Specialised Slaughter Training
Specialised training (inverted slaughtering techniques for sheep and training in the game meat industry) may also be requested from time to time by the industry and training can be provided by the RMAA's experienced slaughter instructors.
Slaughter Assistance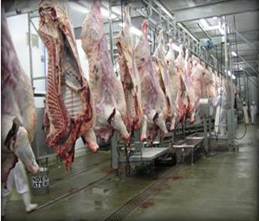 A team of experienced slaughter personnel is available to assist abattoirs where a lack of slaughter personnel occurs due to industrial action, personnel turnover or other problems that prevent the existing slaughter team to operate effectively.
Abattoir start-up (trial slaughter)
This is conducted in conjunction with Veterinary Services of the province. This is the first trial slaughter to determine whether all equipment and facilities are stationed correctly and functioning correctly. Any problems are addressed with the abattoir management and Veterinary Services and a complete report is handed to the abattoir.
For assistance with regard to slaughter technique training, contact:
Office Administrator
Red Meat Abattoir Association
Tel:  012 349 1237
info@rmaa.co.za