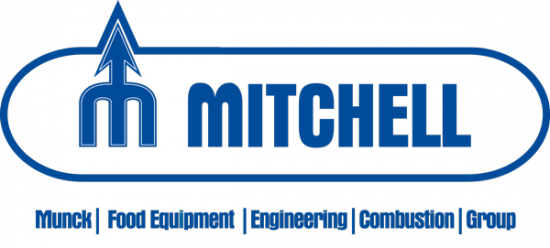 About Mitchell Group
We are a proudly South African company specialising in manufacturing, design and supplies for the meat-slaughtering industry.
We have extensive experience and expertise in providing quality products and service to the meat slaughtering industry.
We also have consultants on hand that can provide you with expert advice and cost-effective solutions in the development of any meat-slaughtering project.
We are local importers and exporters of the meat-slaughtering industry-related equipment.
Our workshop has the capability to design and manufacture any products to client specification.
Specialized products
CAT 142 DEHAIRING MACHINE HEAD AND FOOT
• 3CR12 Stainless steel frame.
• 2.2 KW motor
• 220V or 360 VOLTS.
• All spares locally available
• Made by MITCHELLS in South Africa
• Cleans sheep and cattle heads and feet.
• Double de-haring shaft i.e.. Two operators can work at the same time.
• Designed for easy maintenance and cleaning.
• Mass 120kg
• 1250 x 848 x520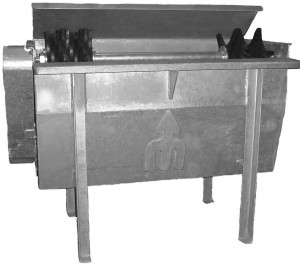 CAT 157 DEHAIRING MACHINE PIG MODEL 60D
• The MITCHELL dehairing machine model 60d is designed to provide mechanized dehairing facilities for the small to medium sized abattoir.
• This robust model is however capable of cleaning 60 pigs / hour.
• The reinforced frame is manufactured from 3CR12 stainless steel.
• The shaft is fitted with flexible rubbers onto which is mounted stainless steel scrapers.
• The complete shaft is mounted onto sealed bearings and driven through a worm drive coupled directly onto the motor to ensure soft starts and smooth and vibration free.
• Motor is 4 KW 380 volt.
• The complete machine is fitted with a cradle to facilitate the effective discharge of the cleaned pig.
• LENGTH : 2.4 m
• WIDTH : 1.2 m
• HEIGHT: 1 m
• WEIGH : 986 KG
• POWER: 4 KW
• ELECTRICAL 380 V
• PRODUCTION 60PIGS/HOUR
INK-MEAT MARKING – MITCHELL
• Used to mark meat
• Quick Drying
• Indelible
• Certificate certifying that Ink is fit for human consumption supplied with every purchase
• Every batch is registered for quality control
Colors available:
• 2003 Violet,
• 2001 Red,
• 2002 Orange,
• 2005 Brown,
• 2004 Black,
• 2007 Green.
MEAT RAILS
The Mitchell group has the capabilities to manufacture, design and install complete meat rail systems in butcheries, abattoirs and meat processing plants.
We supply:
• Continuous meat rail systems with switches
• Internal meat rails in cold/freezer rooms
• Truck body meat rails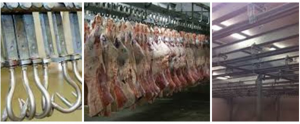 We have the capabilities to design any rail system to suit our client specification; from a large production abattoir to a small butchery. No project is too big or too small.
All manufacturing is done at our premises, and gives us the capability of providing these products at great value, and ensuring the highest quality. We manufacture & supply; the hanger bolts, rails and switches. ( this can be done in mild steel galvanized, painted mild steel or stainless steel).
Understanding that each client has a unique requirement, our sales consultants are on hand to provide each client with a detailed design and layout of their specific requirements.
Not only do we have the capability to design and manufacture your rail system, we also have the capabilities to install your rail system. We have a professional team on hand to provide you with market leading expertise at every Installation.
The Mitchell Group also manufacture the following products at market leading prices to accompany your rail system.
• track runners
• gambrels
• skid hooks
• carrier logs
• bleeding hooks
So take advantage of our capabilities to provide all the equipment you may require for your rail system from one supplier at the best possible price!
Contact Us
Telephone
011-972 4111
Fax
011-391 1571
Managing Director S Herholdt
Marketing manager- Andre Herholdt
Sales Manager- Norah Payne-
Contract Manager- Jacques Van Staden
Account manager- Desire De Beer
Internal sales – Sharne Payne
Stores – Marcel Nijeboer
Reception/book keeper- Nicola Herholdt