Butcher and Meat Processing Equipment (BMPE) is a leading supplier of superior quality New and Refurbished meat processing equipment to the African market. Our primary focus is to provide a professional service to the food industry with regards to Equipment, Spares and the latest Technological innovation.
With more than 22 years' hands-on experience, we are able to provide our customers with an excellent service in all areas of the meat processing industry and have over the years achieved a good reputation for being efficient, cost-effective and professional. We import machines for our local clients across the whole of Africa, ensuring that they benefit from machines of the highest quality at an excellent price.
Our staff have extensive knowledge of current Machines, Technologies and Consumables and we also provide a modern Service and Maintenance Department to support our customers throughout the process. We service a diverse range of customers, from Large & Small Butcheries to Abattoirs, Supermarket Groups, Franchise Outlets and Corporates.
We are the suppliers of the following brands:
Here is some of our Nowicki abattoir processing equipment:
MHM – 68 Injector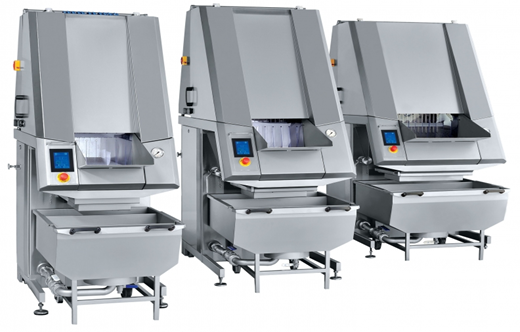 Modern machines designed for brine injection of meat, meat products, carcasses poultry and fish.
Construction advantages:
complete stainless steel made
possibility of high and low injections
system of multifunctional injection heads (1,2,3 and 4- needle)
easy and fast change of the entire injection head with needles
injection head stroke of 200 mm as a standard (100 and 250 mm is available as an option)
two speeds of the injection head in a standard version
smooth speed control (optional)
simple and efficient power transmission system
easy to read and operate control panel
easy to disassemble and to clean conveyer made of plastic material
different conveyor speed controls
highly efficient centrifugal pump made of stainless steel
smooth brine pressure control up to 3 bar (4 bar as an option)
stainless steel brine tank
functions of brine mixing and brine pumping out from the tank
closed brine circulation system
easy to clean multistage brine filtration system
possibility of brine cooling by a rotary filter (option for MHM-68/204, MHM-136/408)
 Crate Washer and Pallet Washer
Designed to wash all kinds of plastic containers, covers of containers, euro-pallets* and buggies*, giving optimal washing effects.
The MP-300, MPU-600 Container Washers are available in a modular version (with possibility of extension of the initial washing module and/ or the air blow-off module).
* MPU-600
Construction advantages:
stainless steel construction
closed water circulation
continuous washing system
stainless steel centrifugal pump
water heating systems: electric, steam, electric-steam, gas*, oil* and hot water*
high efficiency – up to 600 containers per hour (for MPU-600)
regulation and distribution of rinsing water in range: intensity of rinsing, refreshing of tank water, overflow
guiding mechanism for washed containers*
mechanical conveyor for containers transport with a speed regulation (chain conveyor)
effective water filtration system:
– filter with clarifier
– rotary filter (optional)
high pressure nozzles unit with changeable angle of the water outflow
system of cutting off rinsing *
detergent concentration and dosage system
discharge chute for clean containers *
counting of containers (optional)*
optional devices available, i.e. initial washing and air blow-off modules 
* refers to MP-300, MPU-600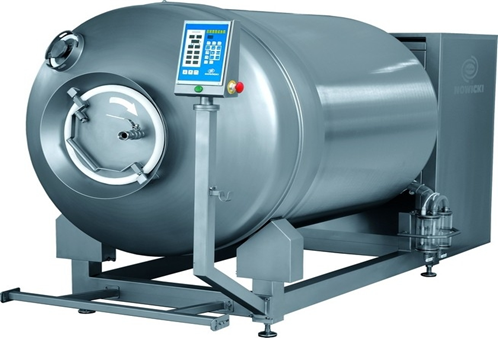 Are designed to improve vividness of the muscles, meat elements, small meat pieces, chicken bodily sizes and elements in the vacuum environment, ensuring the high quality of meat products.
Construction advantages:
stainless steel construction
precisely designed drum shape with helicoidal blades system of the tumbler
microprocessor control system
smooth control of the massaging parameters
automatic system of vacuum control
multistage system of vacuum pump protection
technological port
brine conscription valve
pulsating vacuum
possible massaging in a replaceable gas environment
computer monitoring system of the machine\'s work parameters
weighing system (optional)